● 1"/ 2" Accuracy, more than 600m Reflectorless EDM
● 5.0 Inch LCD Touch Screen
● Cable-Free Connection by Wireless Bluetooth
● Save Time with Auto Height (Optional)
● Camera for Target Aiming and Recording (Optional)
Features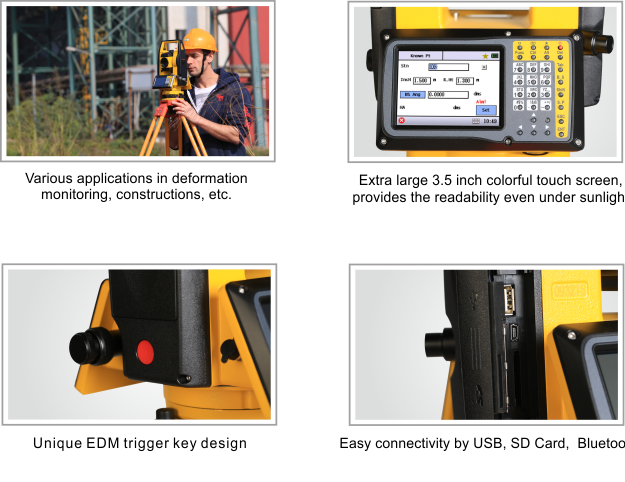 Onboard System
With the highly productive function and performance on each level, N41 has a wide range of applications such as surveying, engineering and constructions. The internal Bluetooth, SD Card port and USB afford a direct and fast data transfer between total station and PC.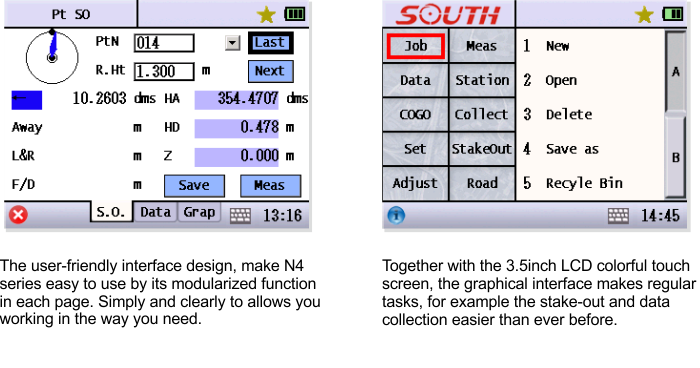 Tunnel System
With the characteristics of simple operation, graphical display, rapid and accurate calculation, it can easily realize the section data acquisition, analysis, construction stake-out, random detection in real-time. This software is convenient for operator to finish the tunnel project, also meet all the requirement of saving money and time.
· Real-time graphic display for data collection.
· Reliable analysis of section measurement result,  fast calculation for tunnel overbreak and underbreak.
· Auto-match and calculation among designed flat curve, designed vertical curve, theoretical section and actual measuring data.
· 3D coordinate of blast hole profile, can stake-out directly in tunnel.